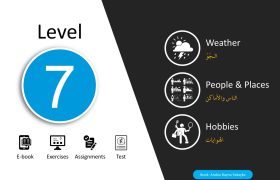 What Will You Learn?
Running simple conversations about everyday life topics.

Understanding texts and audio instructions related to everyday topics.

Reading, understanding, analyzing and discussing dialogues and paragraphs related to daily life.

Writing simple paragraphs describing activities related to everyday topics.

Understanding the construction of a simple Arabic sentence and the syntactic rules related there to.

Build vocabulary with over 200 words that are commonly used in everyday life.
Course Content
الجو
الحوار الأول- الخريف

تدريبات اليوم الأول ح1

تدريبات اليوم الثاني ح1

الحوار الثاني – الشتاء والصيف

تدريبات اليوم الأول ح2

تدريبات اليوم الثاني ح2

الحوار الثالث – الربيع

تدريبات اليوم الأول ح3

تدريبات اليوم الثاني ح3
الناس والأماكن
الهوايات
الامتحان التحريري
الامتحان الشفوي
Student Ratings & Reviews
No Review Yet